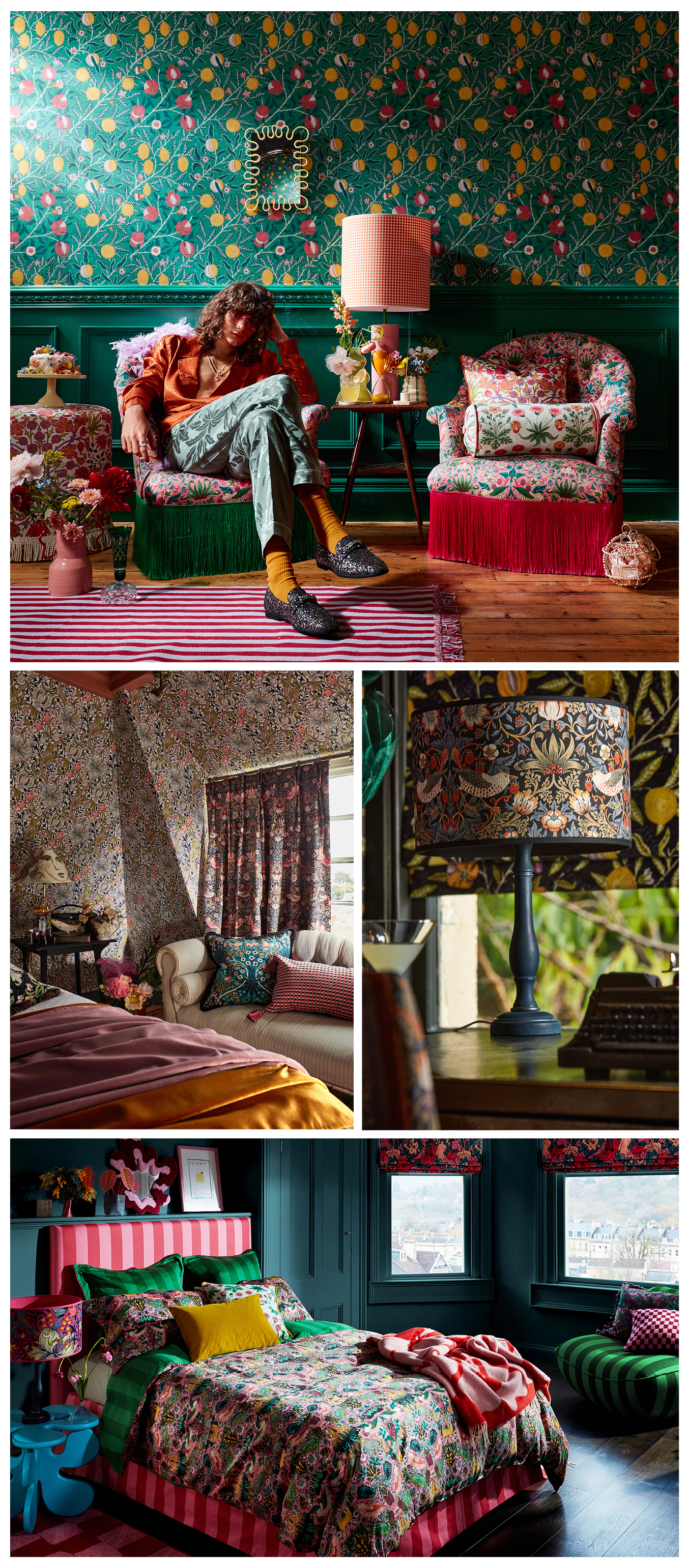 Steal The Show With Strawberry Thief
We know we shouldn't, but the great faces from film and books make it so hard not to love a thief. From The Great Train Robbers and Robin Hood to Bonnie and Clyde and Irene Adler, let's face it, we all love a bad boy. We certainly aren't holding up any banks, but our iconic Strawberry Thief is a story about how a cheeky, fruit-thieving bird stole hearts and gave rise to one of the most recognisable patterns in British design history.
Caught pinching strawberries from his kitchen garden, William Morris created Strawberry Thief in 1883, memorialising this song-thrush's rebellious spirit. Even in manufacturing Strawberry Thief, Morris rejected the norm. Railing against the chemical aniline dyes popular in his day, Morris went back to nature for an organic dye mix.
Channel you own inner rebel with a trippy contemporary twist on this timeless design. In our modern take on this 19th century classic, the Strawberry Thief Beetle Mania bedding has a surprise in store; specimen butterflies and beetles bustle along with the song-thrush on this electric duvet set, a cacophonous cross-section straight from nature.
William Morris once said, "Think first of the walls." We couldn't have put it better. Our Strawberry Thief wallpaper in the 'Old Fashioned' colourway is anything but a relic of the past; transported from 1883 through hyper-speed into an alchemical menagerie.
Steal a glance, and then a second, as you light up the room with Strawberry Thief lampshades; available in three dimensions, the size of the impact is up to you. That rascally song-thrush also steals its way across a range of made-to-measure curtains and blinds, perfect for sealing your theme with a major maximalist makeover.

MORE FROM ARCHIVE: Discover all of our Strawberry Thief products and go Behind the Curtain for more inspirational content.
posted on 24 Jun 2022 in Interiors