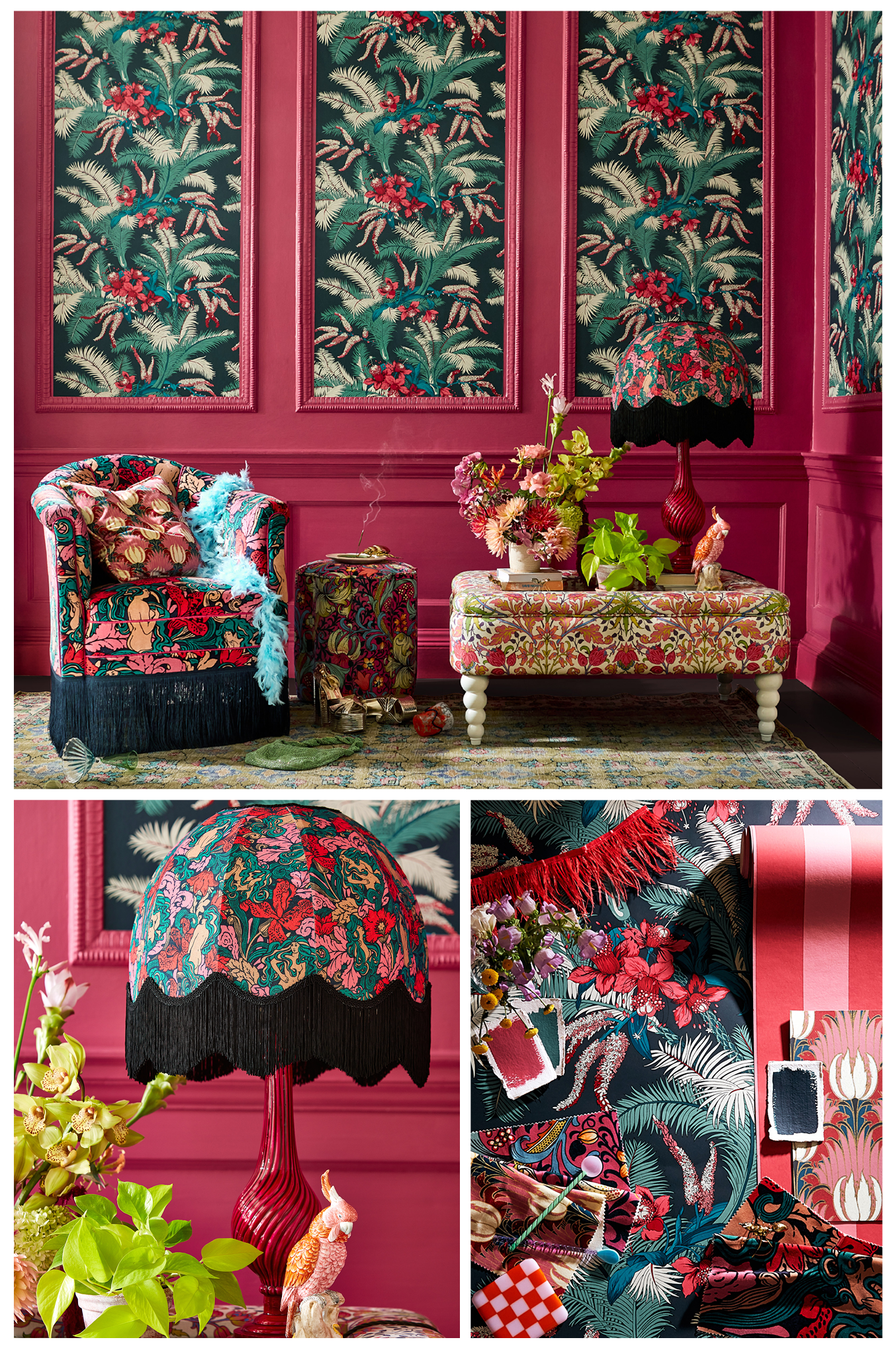 Gone are the days when pink was the reserve of 'feminine tastes'. This is 2022. We're all about pink and everyone is welcome here. It got all of us at Archive thinking... is pink actually the most rebellious colour of them all?
In the Maximalists' home pink is punk personified. From beautiful botanicals in saturated serotonin pink to tropical delights of deep pinks paired with jewel link emerald shades. Make the first move towards boldness, with a pink bonanza right in the heart of your home. Read on to learn how. You'll be tickled pink you did.
PINK LADIES
Just like that effortlessly cool gang from 70s classic, Grease, the female protagonist of Forbidden Fruit is a pure pink icon. Once regarded as too flamboyant and risqué for the design world of the 1960s, our Forbidden Fruit fabric makes itself right at home in a more liberal, experimental time. The pumped-up colour story of Kingfisher & Loganberry tells the tale of a lover of both colour and pattern. Looks like you've found your new leading lady.
THINK PINK
Four walls just not enough pink for you? We're catching your drift. Amp up your Maximalism game by taking to the ceiling with serious meaning. Cocooning your room in layers of pattern is a go-to trick in the Maximalist's playbook, and Strawberry Thief, William Morris's 1883 wallpaper classic in Miami Strip, is pink perfection.  
PALMETTO IS A PINK PARADISE
Palmetto wallpaper in Black Cherry is a broodingly exotic wonderland of tropical delight. Inspired by the frenzied orchid hunters of the 19th century, bursts of extraordinarily rich pinks on the passion flowers explode against a midnight black backdrop.
DARING DRAPES OF PINK POWER
If C.F.A. Voysey did one thing, it was to create iconic symmetry, such as this Tulip & Bird fabric originally from 1895. And if we, the venerable Archive, do one thing, it's creating explosive colour palettes. Combine the two, and you have a drapes or blinds dream team. The Amaranth & Blush colour story ratchets this up one notch further, so you never have to shy away from daring window furnishings again.
PINK IS THE NEW BLACK
What's your signature look? Ours is bold striped pinks. Obviously. The Signature Stripe lampshade, brought to life thanks to our collab with lighting masters Pooky, is not one to be missed. For a little moment of 'switch-on Maximalism', you can't go wrong with an iconic lampshade.
Pink is such a power-colour. So don't blush, go boldly with this delicate yet daring hero colour.
Need a hand with that? Check out our VIP services to help you on your way.
Need a hand with that? Our VIP services are right there for fittings, styling tips and more.
Like our lighting? Shop our brand new Pooky lighting here!
posted on 14 Oct 2022 in Interiors