3 reasons why printed pouffes are a maximalist must-have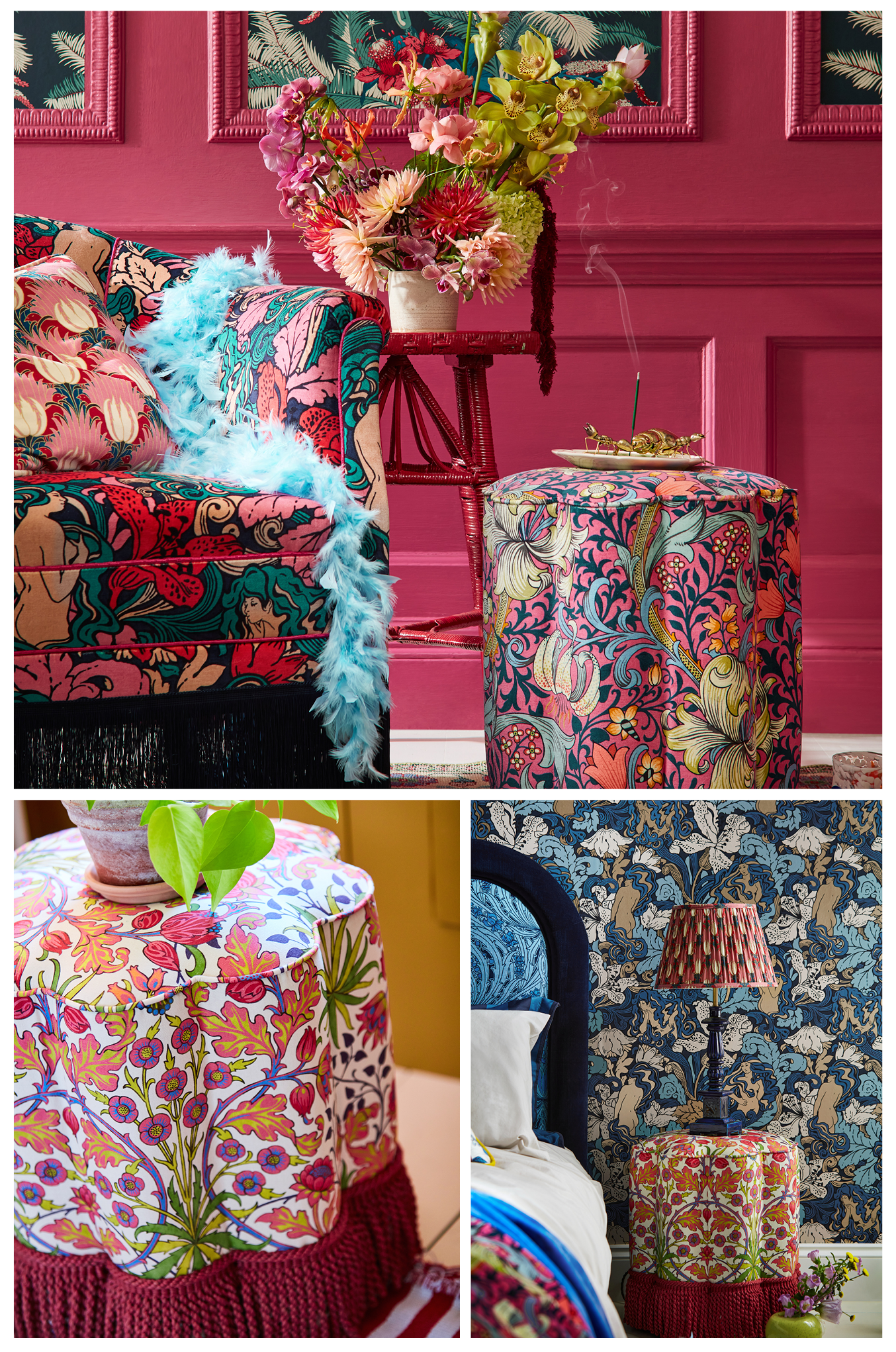 Archive's pair of pouffes have finally DROPPED and we can't wait to see what you make of them. To help you on your pouffe path, we've whipped up this quick-fire read on what makes a pouffe the Maximalist's best friend when it comes to concocting daring, pattern-rich schemes.
1.  PINK + PATTERN + POUFFE = PERFECT PARTNERS
As movable items of mobile luxury, pouffes make for a great way to introduce pattern and colour into almost any space. Whether you're a Maximalist maverick looking to up the ante, or new to the game and searching for an in, a pouffe offers you that pocket of pattern you've been waiting for.
You may have noticed; we have a bit of a penchant for pattern. And our pouffes aren't bucking that trend. We've supercharged two J.H. Dearle Arts & Crafts designs, Hyacinth and Golden Lily, in page-turning colour stories: Cosmo Pink and Serotonin Pink. Epic and complex, these two patterns are kings of the floral motif, with intertwining fronds and transfixing repeats. 
2.  A COLLISION OF CRAFT & MAXIMALIST STYLE
Who doesn't long for a bit of luxury? What can we say, not all pouffes are created equal, and we're certainly not starting now.
A pair of local heroes, both our pouffes are UK-made featuring scalloped-edged shaping, with the fabrics printed at our Lancashire mill and the pouffes being crafted in Derbyshire.
We've lavished some serious love on our Hyacinth pouffe. Iconic 100% Renaissance cotton fringe detailing offers the ultimate luxury trim, handwoven and made to impress.
3. A LOUNGE-ABOUT-LEGEND
Putting your feet up never looked so damn good. Nor did making a little floral display. Or a lampstand. In fact, anything you do with a pouffe is going to look pretty fresh.
Pouffes are versatile items of furniture, lending themselves to seating arrangements and display units. Look upon your pouffe as, really, five other things. It's the miracle Maximalist object d'art.
posted on 21 Oct 2022 in Interiors