The misunderstanding of the moody blues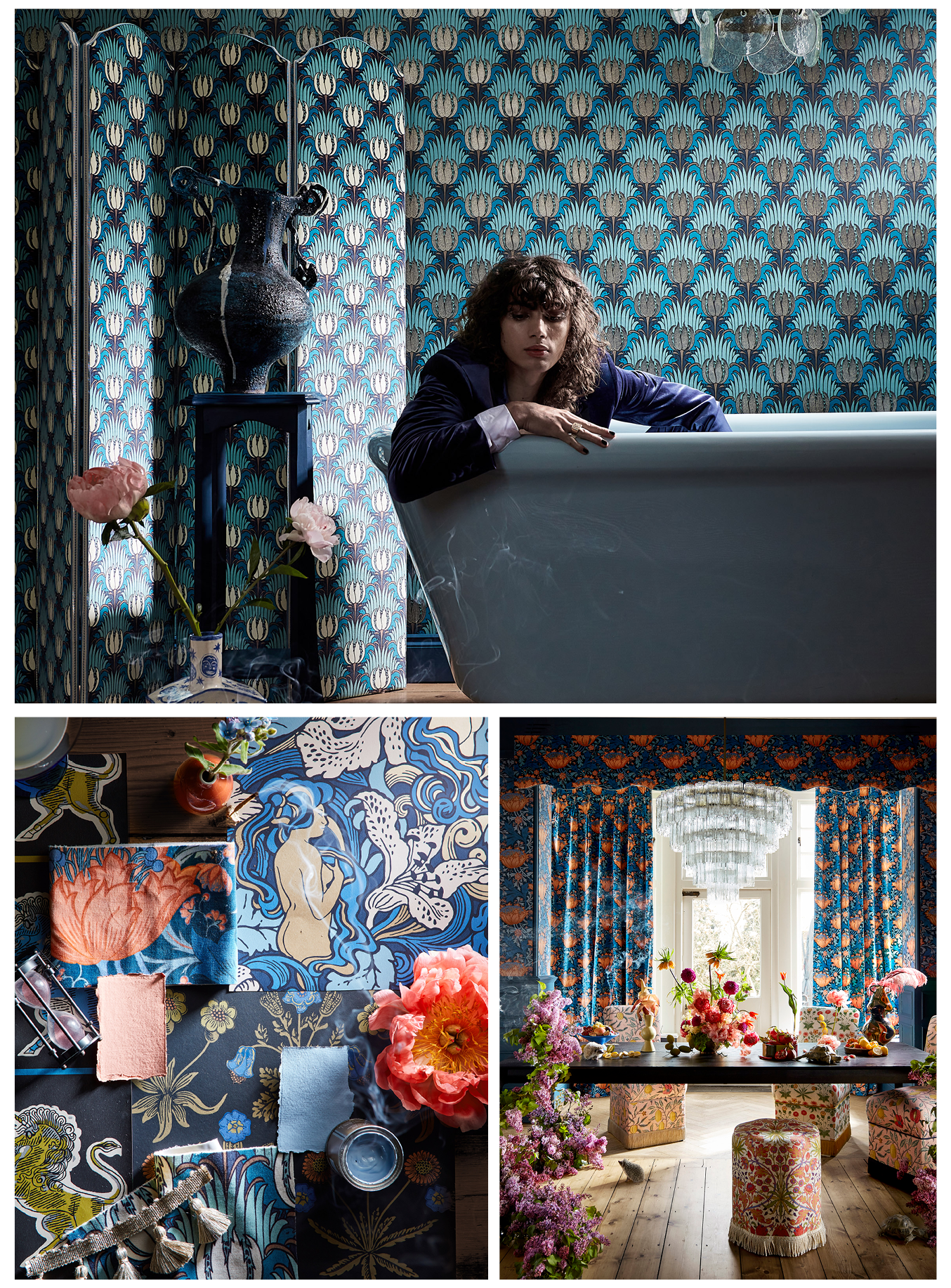 Blue is the warmest colour

Coolness is… often colourised by blue. Its crisp, edgy appearance and feeling gives power to palettes with almost cold clarity. We associate blueness with dark moods, chilly temperatures, even a clinical nature on occasion, yet, its tonal shifts are deep, evocative and so vast that it is impossible to distil down one true blue, and why would you want to?
Wanderlust for design explorers sees journeys through landscapes of sky blue and meandering in aquatic reverie, dancing across walls, ascending steps and entering tiled temples, blue is the lost and found of old and new worlds, forged stronger by its bond with nature.  It is reflective, in the truest sense of the word, between sky and land.
When you think of blue it often evokes memories of hot summer skies or cool, crisp Nordic glaciers – It is a colour of extremes, the coldest crashing waves versus sundrenched Moroccan souks; images of Jardin Majorelle are conjured.
In interiors, blue is for much more than classic coastal bathroom suites, it exudes coolness in different ways, collar turned up against the cold. From twinkling midnight skies to the inky drip from a fountain pen, this emotive hue inspires every inch of home design, with its assured depth and confidence.
Regal in royal tones or calming in cornflower, blue is both smooth with the depth of an ocean and textured with dappled light and darkness combined. Where Cerulean blue hits all the right runway notes (recall its power in The Devil Wears Prada?) Majorelle is a sweet spot in interiors. Making its presence felt in Mildmay, this blue hue has depth, character and a powerful persona, Mildmay in Majorelle Blue has an almost literary quality to it, the flowerheads reminiscent of a lion's mane, decadent and easy-going retro vibes burst forth from Mildmay, making it a wild yet wonderful print to play with in a reading nook, sitting room or simply in a bedroom window frame as an evocative blind.
St Sebastian in Midnight Embers is the F. Scott Fitzgerald of prints, wild, euphoric and ambitiously playing with its opposite contemporary. As the jazz age writer declared his love of excess and celebration, St Sebastian dances in the uninhibited same spirit, taking its Japanese references and Mediterranean tones and displaying its print, oh-so-boldly for design explorers to indulge in, whether in a wall of wonder or a hint of rebellion in a fringed English velvet cushion. The choice is yours for those devil-may-care days.
For blue with a hint of renaissance resplendence, Forbidden Fruit in Stoned Rose, is the Adam and Eve of this story, opulent yet bohemian in its presence, thanks to the head and heart of Pat Etheridge, who, in 1968 created 'Nana' and now, in 2022, we're reworking her trademark energy in shades of blue, in fabric or on walls, to embolden interiors and reflect the more risqué side of home design. Indulge in the swirling ripples of Forbidden Fruits form in the bathroom and make a statement and a true conversation piece.
In the spirit of a more linear, formal affair, Signature Stripe, that sartorial line of monochromatic joy is bold and straightforward (excuse the pun) in its thick vertical stance. Tailored and efficient, Signature Stripe in Jazz Night is as versatile as it is striking, pairing with more free-flowing prints, it sings in upholstery and made-to-measure curtains. A true gentleman of striped style.
Exuberant, playful, evocative and suitably stylish, blue may once have had a mistaken identity as the moody of colour palettes, but what we see is not always what we get. Whether indulging in a full blue scheme, a plump cushion or two emblazoned with the Elixir of Life print, or even sitting down to sample one of Pip Jolly's blue curacao infused cocktails (a recipe not to be ignored), our collection of cool colourways confirms that blue really is the warmest colour.
MORE FROM ARCHIVE
Go Behind the Curtain or find us on instagram @archive_sdg for more BLUE design inspiration, from Archive.
posted on 25 Mar 2022 in Interiors