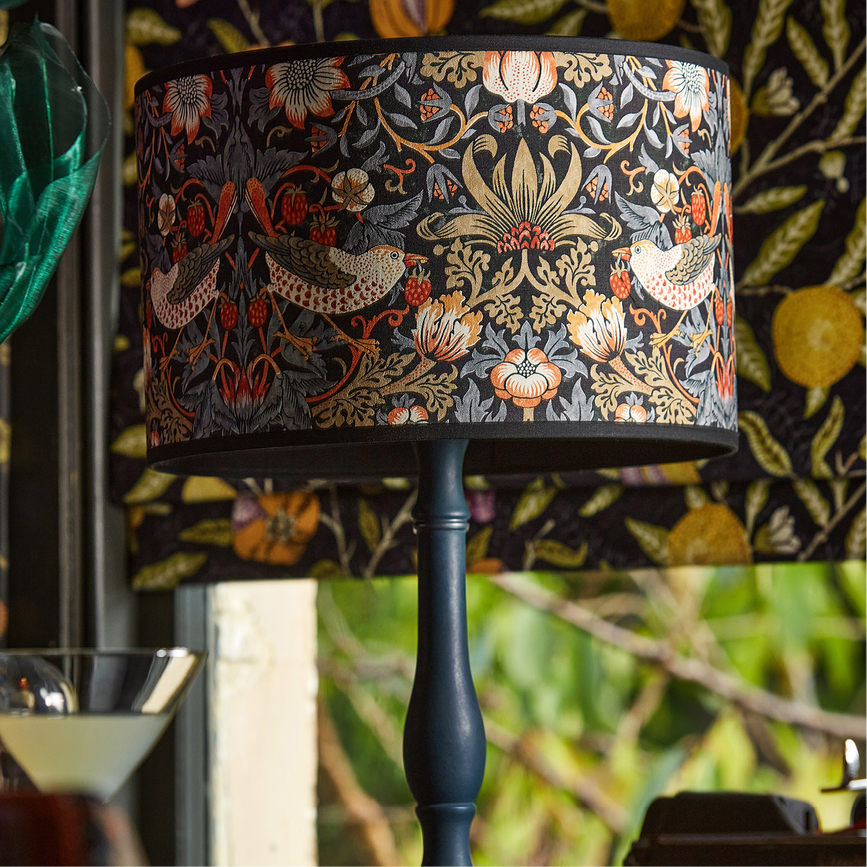 Turn It On And Turn It Up With Iconic Lampshades
We give you Maximalism at the push of a button (or the switch of a… switch..?) with our new-age iconic lampshades. Perfect for newbies to the Maximalism game, or old hands looking to shake things up, lampshades are an epic way of introducing a potent dose of pattern that will literally light up a room.
Available in three sizes to suit rooms large and small, but without scrimping on impact.
What's Your Risk Factor?
Our Forbidden Fruit lampshade in Absinthe packs a punch- and a story. Once considered too risqué for prudish tastes, Pat Etheridge's reworked 1958 masterpiece, Nana, is right there with you for trippy vibes. In the Absinthe colour story, intoxicating greens and pools of teal platform the nude female figure. 
Arts & Crafts Bohemia
Tune up that bohemian vibe with C.F. A Voysey's 1895 Tulip & Bird design. Saturated with colour and with pattern for days and days, this icon of the Arts & Crafts movement brings Goblin Greens and Raven Blacks into the mix. Voysey was something of a legend in 20th century design circles, a creative troubadour for the Modern style. Humbled by his legacy, we (not so humbly) shift the dial forward once again with a radical recolouring of Tulip & Bird for our lampshade.
Stop! Thief!
Strawberry Thief from 1883 is William Morris's triumph. This 19th century masterstroke depicts a cheeky strawb-thieving bird and remains a Maximalism origin story from Morris & Co. Set against a midnight-black backing, this design speaks, or shouts, for itself.
Embrace Those Happy Hippy Tones
Spellbindingly decadent, J.H. Dearle from Morris & Co. has left to posterity this absolute firecracker of a floral design; Golden Lily. First produced at the turn-of-the-century in 1899, we've fast-forwarded to the swingin' sixties flower power for our Pink Fizz colour story. Show your true rebellious colours, with this heritage hero.
Whether you're throwing shade or lighting it up, legendary prints with colour rich design are sure to land you some serious impact.
WANT MORE INSPIRATION FROM ARCHIVE?
INTERIORS
CURATING YOUR SPACE: FROM STATEMENT CHANDELIERS TO ECCENTRIC SHADES
Ever looked up at the twinkling, outstretched arms of a chandelier and wondered how something so extravagant could be so utterly beautiful. And then followed the same thought with, "Is that a bit over the top for my home?" 
posted on 02 Sep 2022 in Interiors