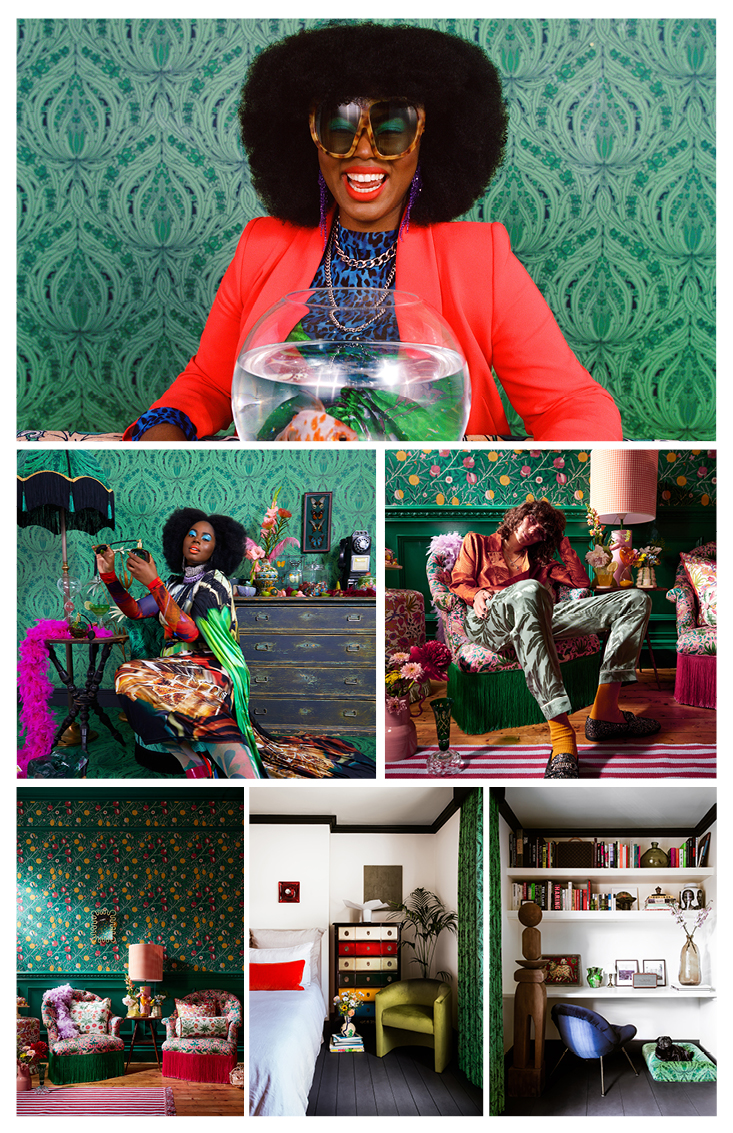 A VERDANT DESIGN VERNACULAR
We know green is good; in food, in nature, and now in interiors. From sublime sage shades to a verdant exploration of naturalistic colour with neon capabilities, green, it seems, is the hidden power palette behind the everyday AND the extraordinary.
There is a sense of wilderness, of travelling and discovery that comes with the lightest touch of green. From rural trails in vast open spaces to the underground tube tiles of Sloane Square, with its cool hunter green metro tiles leading you out into the city, the green palette brings about a connection to nature and explosion of flavour – a crisp tonic to remedy the greige of life.
Whether harmonious or boldly challenging, green has a restorative power, a beguiling beauty that dares to be discovered in interiors. Fresh, irreverent and fun, green plays between being entirely youthful and carefree and yet dynamic, established, and intentional in its tone. For rebels with a colour cause, will you select racing, absinthe, or goblin green in your scheme?
In interiors, space can transform with the lightest of green touches; take Archive's Golden Lily for example, in Galactic Ink it feels reminiscent of a pastel pastime, playing with blue and green tones to explore a harmonious narrative with the softest pink, yet, in the Secret Garden colourway, its personality is transformed, light and joyful with hints of lemon/lime, the freshness elevates the original design by Morris's design protégé, John Henry Dearle. It is grown up yet youthful and expressive all at once.
Uplifting and intoxicating, with a hint of regality, Tulip & Bird in Goblin Green & Raven is richly-coloured and densely packed with vibrancy, yet, when pasted onto a wall or hung in curtains it morphs into a neat dance between blue and green, the stylised symmetry of flowers creating a visual texture that flits between regal and renegade. At home in a library nook, paired with rich mahogany, or dressing a bedroom window, Tulip & Bird in this green colourway hits all the right notes.
For a subtle dash of palm green, Daisy in Strawberry Fields doesn't shy away from simplicity, unusually for Archive, but embraces it with a muted backdrop, allowing the dainty floral to take an understated seat in a room full of maximalist surprises.
Daring and delightfully rebellious, Forbidden Fruit never fails to stop people in their tracks and in hypnotic Absinthe, there is no escaping its seductive powers. A touch of apricot balances the moody hue of Absinthe as it cascades from the naked lady's head in luscious tendrils, revealing an undulating print of green that is sure to light up any tastemaker's eyes.
But, for the ultimate in green envy, we introduce Mildmay, a lion's mane of a print, lush in bulbous green pattern, it is almost kaleidoscope, a treat for the sense and reflective of the very best shades of green, morphing as the light works around it. Drawn from the depths of the Arts & Crafts era, Mildmay, more like 'Wildmay' is a maximalist's dream.
MORE FROM ARCHIVE
Go Behind the Curtain or find us on instagram @archive_sdg for more GREEN design inspiration, from Archive.