IRIS APFEL: THE DARLING OF MAXIMALISM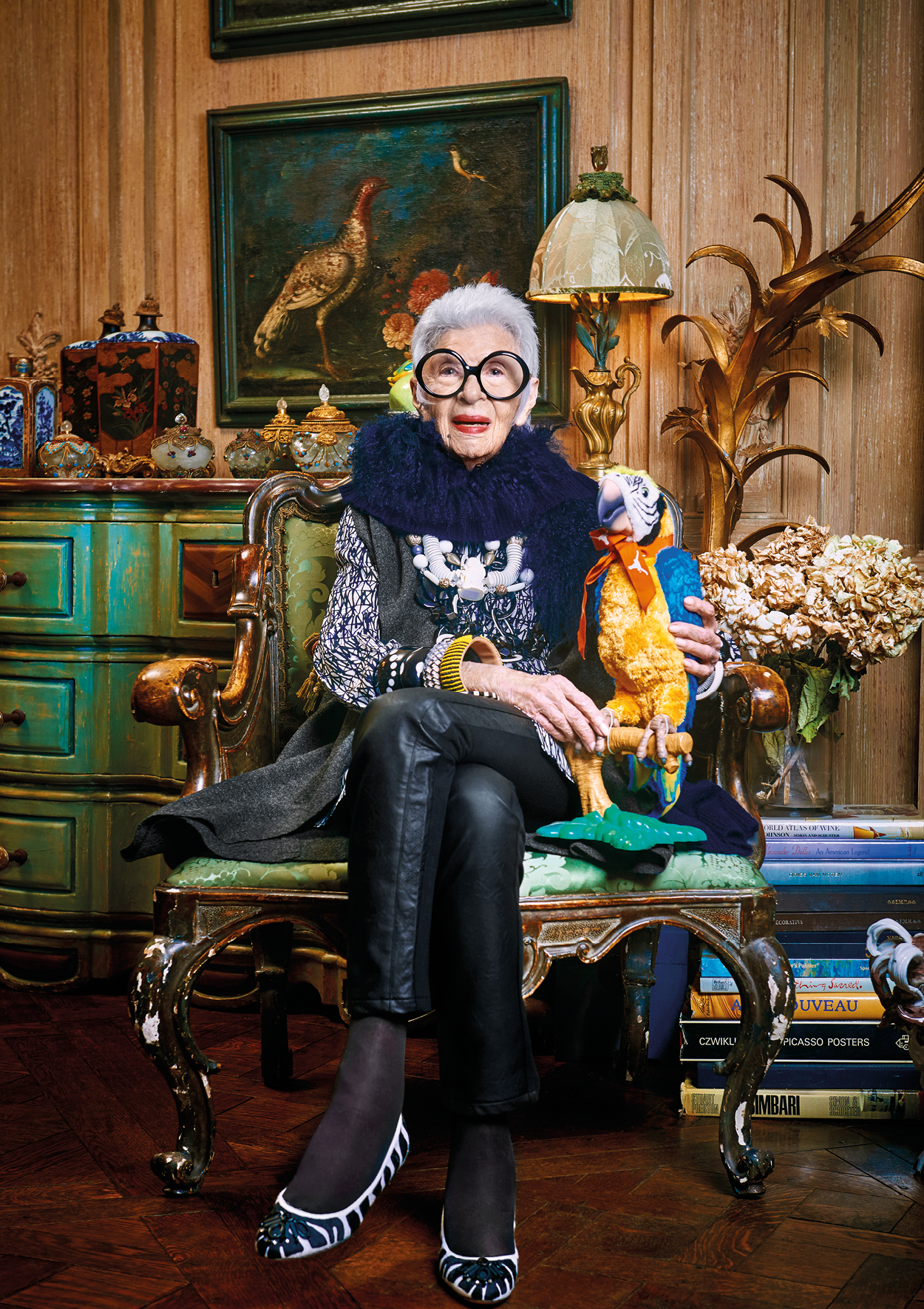 How a life working with fabrics was the perfect entrée into the world of high fashion.
"In wonder it begins". So reads the opening pages of 100 year-old Iris Apfel's 2018 memoirs, Iris Apfel, Accidental Icon, in which she muses on the chances and determination and "pushing aside of fears" that laid the path of an extra-ordinary life in fashion and interiors.
For while Iris might be known today for her bold eyewear choices, her inspired dress sense and her museum-worthy jewellery collection, it was as a purveyor of historically-inspired fabrics that she, and husband Carl, first made their names, as the founders of Old World Weavers which they launched in 1950 and ran together from New York's antique district on 57th St, until they retired in 1992.
The Apfels specialised in fabric reproductions from the 17th, 18th and 19th centuries, and traveled to Europe regularly in search of textiles they could not source in the United States. Their clients were the great and the good of American society and included a contract with the White House which lasted through nine presidents, from Truman to Clinton.
While Iris remembers that contract being one of their simpler projects to fulfil (other clients included Greta Garbo, Estée Lauder and Joan Rivers), Jackie Kennedy proved the exception, as Iris has witheringly observed: "She employed a very famous Parisian designer to gussy up the house and make it a real Frenchie, and the design community went bananas. After that we had to throw it all out and start again. But I did like Mrs Nixon. She was lovely."
Iris's love of textiles and pattern started at an early age when her grandmother allowed her to play with fabric scraps which she kept in large quantities. After each visit, if Apfel had behaved, her grandmother would allow her to take home six scraps. "Obsessed with texture, color, and pattern, I spent whole evenings entertaining myself this way," writes Apfel. "Looking back, it's very clear playing this way honed my eye and gave me a very deep interest in fabric." 
Along with her love of fabric and fashion - she started buying her own clothes when she was 12 - Iris is a self-confessed shopaholic with a particular love of flea markets. Her first interiors purchase was an oil painting of the Infanta Margarita which she discovered in a Florence flea market over 60 years ago and which still resides in her Park Avenue home today. "I was born with a souk sense," she wryly observes.
The undeniably maximalist apartment is a testament to Iris's magpie eye and her rich knowledge of historical decor. But much like Iris's own style, it's not stuffy or formal, rather eclectic, daring and irreverent. Precarious piles of travel books teeter next to a richly carved Italian console and a vibrant paisley shawl is thrown casually over a dining table, beneath an intricate Italian chandelier. Heavily carved armchairs, upholstered in rich damasks, proudly display signs of wear and tear, while rack-upon-rack of Iris's vintage clothes fill a spare bedroom; the room's elegant plaster mouldings playing second fiddle to her love of fashion.
For Iris has curated a life rich in texture and history, both in her home and her wardrobe. But more importantly she's ploughed a life full of interest, panache and not a little dry humour. As Iris herself writes in her memoirs, "You can learn to be fashionable… But as for style… either you got it or you ain't."

OUR FAVOURITE IRIS-ISMS...
"More is more and less is a bore."
"I like stuff; I like being surrounded by a lot of things that give me pleasure to look at."
"Color can raise the dead."
"Gettin' old ain't for sissies. You start falling apart, but you just have to buck up and paste yourself together."
IMAGE CREDIT:
Beauty & Photo: Blue Illusion Fall Winter 2016/ Photo by Daniela Federici
BOOK CREDIT:
Iris Apfel: Accidental Icon by Iris Apfel is published by Harper Design, RRP: £25
GET THE MAXIMALIST LOOK
Maximalist to its core, we've turned up the volume on our iconic designs, doubled down on patterned repeats and re-invented our heroic colour stories for an uncompromising look. Step into Archive By Sanderson Design.