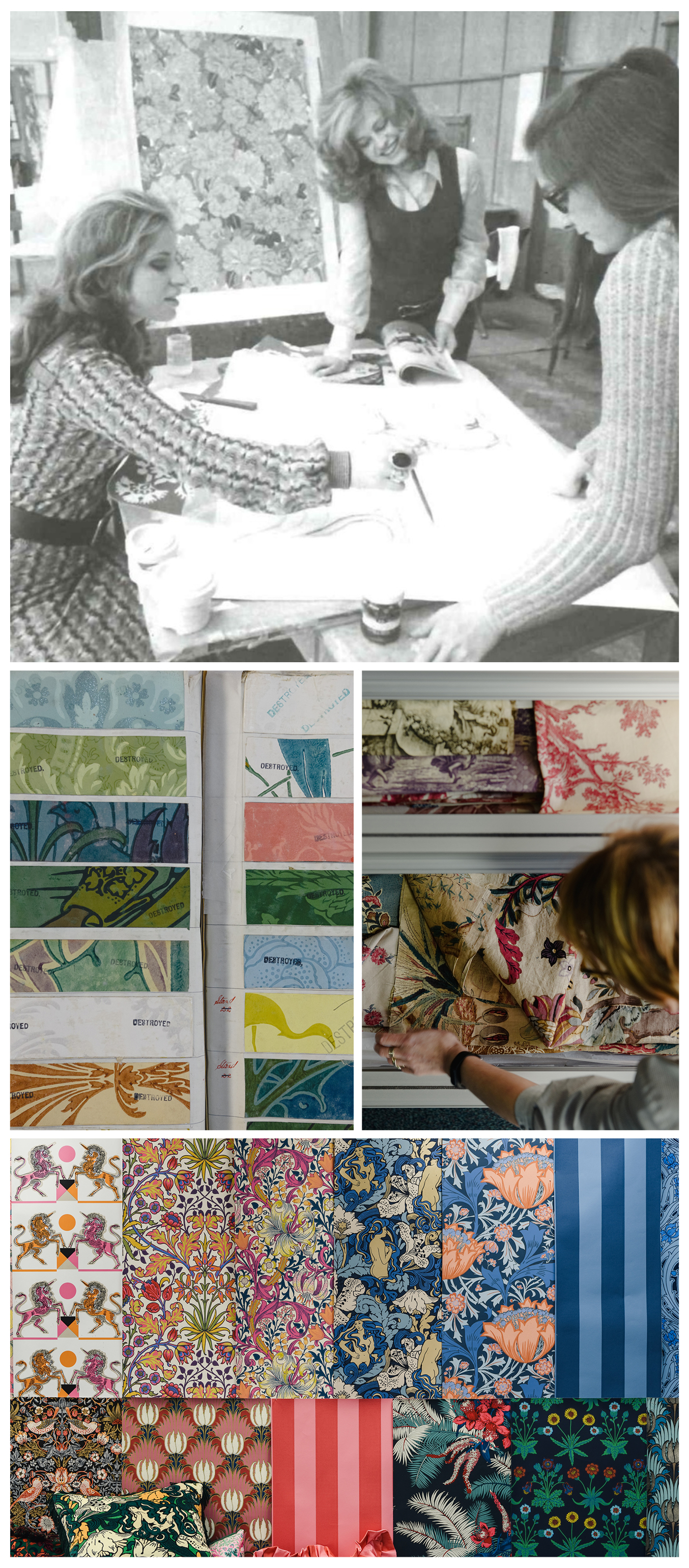 Reinventing designs of the past
Icons of taste and style, whether in interiors and architecture, like Charles and Ray Eames and THAT piece of furniture, Vivienne Westwood and Alexander McQueen bringing their distinct brand of rebellious art to the fashion fore, or the enigmatic individuality of Bowie, Gaga and Grace Jones, leaning into the daring and defiant way of design has never been more exciting, as seen by these trailblazers.
We are awash with modern-day icons, their every move and style choice a well-documented and photographed event. Think MET Gala moments, where art meets fashion, making icons of new faces wearing designs of industry masters.
Fashion's more recent foray into re-wearable styles holds a mirror to our work in the archive, bringing forth past designs into a new world. It is this respect and homage to the past that reveals daring and decadent designs that quite literally, stand the test of time.
Pure re-imagination
Committed to creating future design icons through the re-emergence of iconic work of the past, our searches through the archive have revealed some of the most forward-thinking, rebelliously thought-out designs. These devilishly detailed, enigmatic prints unfurl in front of our eyes, and with the daring design team on hand to bring new-age drama to these archival prints, it was only a matter of time before reimagined prints were born from the masters of design such as Pat Etheridge, Walter Hoyle, John Henry Dearle and William Morris himself.
Mythical legends, apply within
Walter Hoyle, the English artist known for his watercolours and illustrations, took a walk on the wild side when bringing to life the mythical Unicorns in Elixir of Life back in 1958 and now, we ride the punk rock renegades into a new area in bursts of neon colour, redrawn in charcoal and ready to rouse any sleepy interior (which is always the aim of the game with us). This mid-century print was calling out to be reframed for daringly rebellious homes and the unicorn remains as statemental today as it was when Hoyle first drew it. Beguilingly beautiful, and with just enough British punk to stir the senses, the Sherbet and Nightfall colours are equally intoxicating. An eternally symbolic creature of power and mystery, no wonder Damien Hirst brought forth the unicorn in his The Dream taxidermy of 2008. Once a rebel icon, always a rebel icon.
Botticelli but braver
Praise for designer Pat Etheridge whose original Nana print fused botany and, let's face it, bottoms into tendril-twisted scenes in her most famous work. Ethridge joined the Sanderson studio in the 60s and this original, retro print saw a nod and a wink to sex on a repeat print with this daring and explorative pattern that was calling out for reinvention. Cue a palette of heady tones and shades, the punch-drunk greens of Absinthe, bloody bursts of Loganberry and not forgetting the dramatic blue hues of Stoned Rose, and you have Forbidden Fruit, remastered and ready to bring a hint of Botticelli's The Birth of Venus to the bathroom or bedroom. In fact, put it where you like and wait for those reactions.
A lion's mane of a design
Do not be dismayed, Mildmay is a trip to experience in wallpaper and fabric alike. Iconic for its unfurling symmetrical design, Mildmay is inspired by the pioneering Modernist work of designer, architect and creator, C. F. A Voysey. Responding to a heady repertoire of Arts & Crafts hero-designs, Mildmay delivers panache and a Kaleidoscope of visual emotions on tap. Is it a flower plucked from nature, or something otherworldly entirely? In Goblin Green and Majorelle Blue it straddles worlds between fantasy and reality, meaning you'd be a fool for reading too much into this design's name. Voysey's authorship of Tulip & Bird shows the symmetry and simplicity of his inspired hand, and how the era in which it was originally crafted is still as daring today as ever. 
High on Hyacinth and golden delights
John Henry Dearle, protégé of one William Morris knew what he was doing when he created Hyacinth in 1911. This print would look good in any hue but it was the reimagination under our designer's carefully curated gaze, that gave new meaning to the once delicate wallflower. Now it packs a punch with a rock and roll edge. Golden Lily, another of his designs, screams from the rooftops in Pink Fizz, giving new icon status to this classic.
Carmen Miranda meets Morris
William Morris's work needs no introduction and, some might say, no tweaks, and, while we agree that his work is monumental, the treats of the archive have stirred up some new Morris emotions in us that we couldn't help but play with. Strawberry Thief now delights in the maximalist glory of Beetle Mania, as it comes head-to-head with curious creatures in intoxicating colourways and even the seemingly country vibes of Fruit has been dialled up a notch, giving the queen of the fruit bowl, Carmen Miranda, a run for her grocery money. Fruit in Twilight shows just how reinvention can be masterful, daring and delicious in design circles.
PHOTO CREDITS: Archive Photos shared with permission from Inigo - You can read their article on our archive here -  https://inigo.com/almanac/a-place-like-no-other-sanderson-library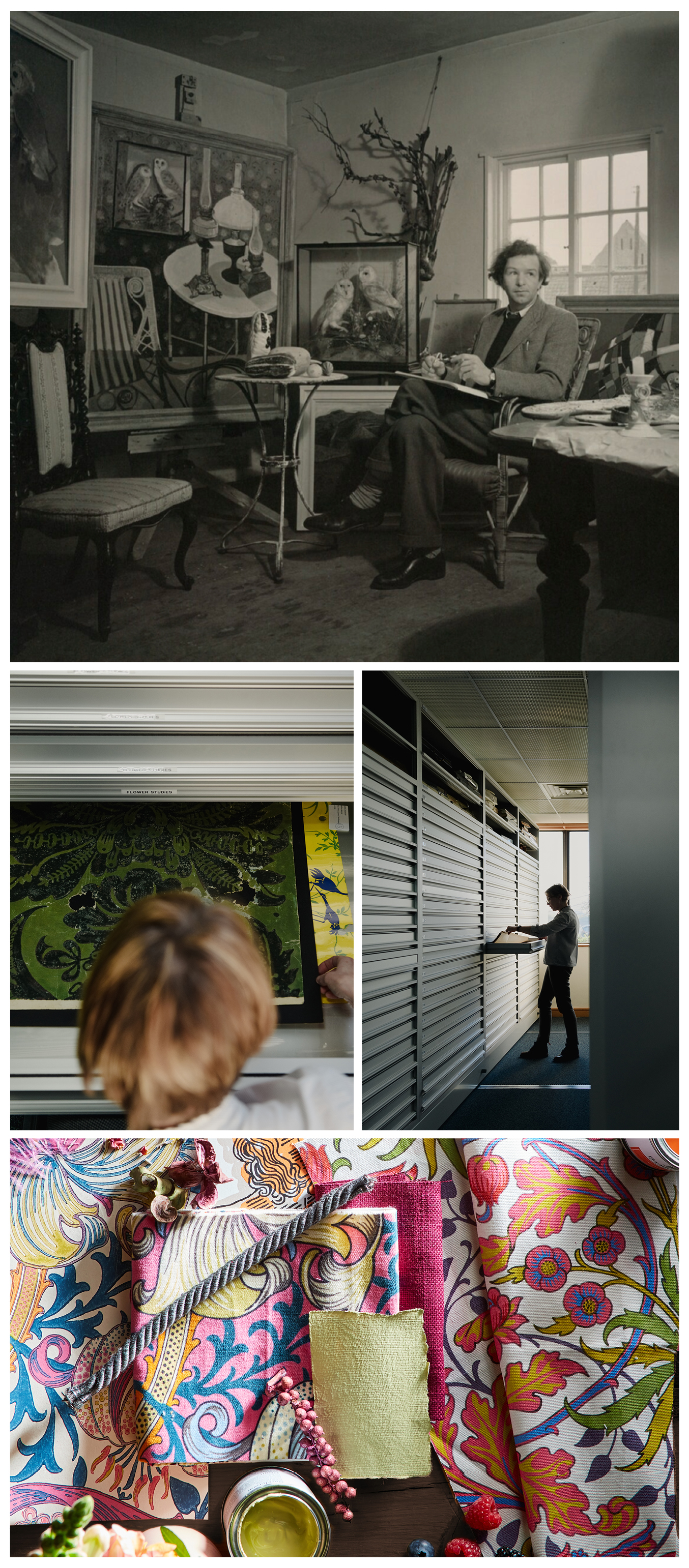 posted on 08 Jul 2022 in Interiors