close
Added To Favourites
---
Hints of print with Nick Grimshaw and Meshach Henry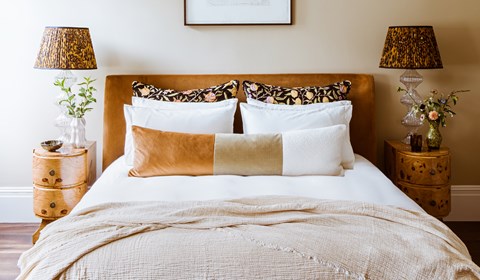 HINTS OF PRINT WITH NICK GRIMSHAW & MESHACH HENRY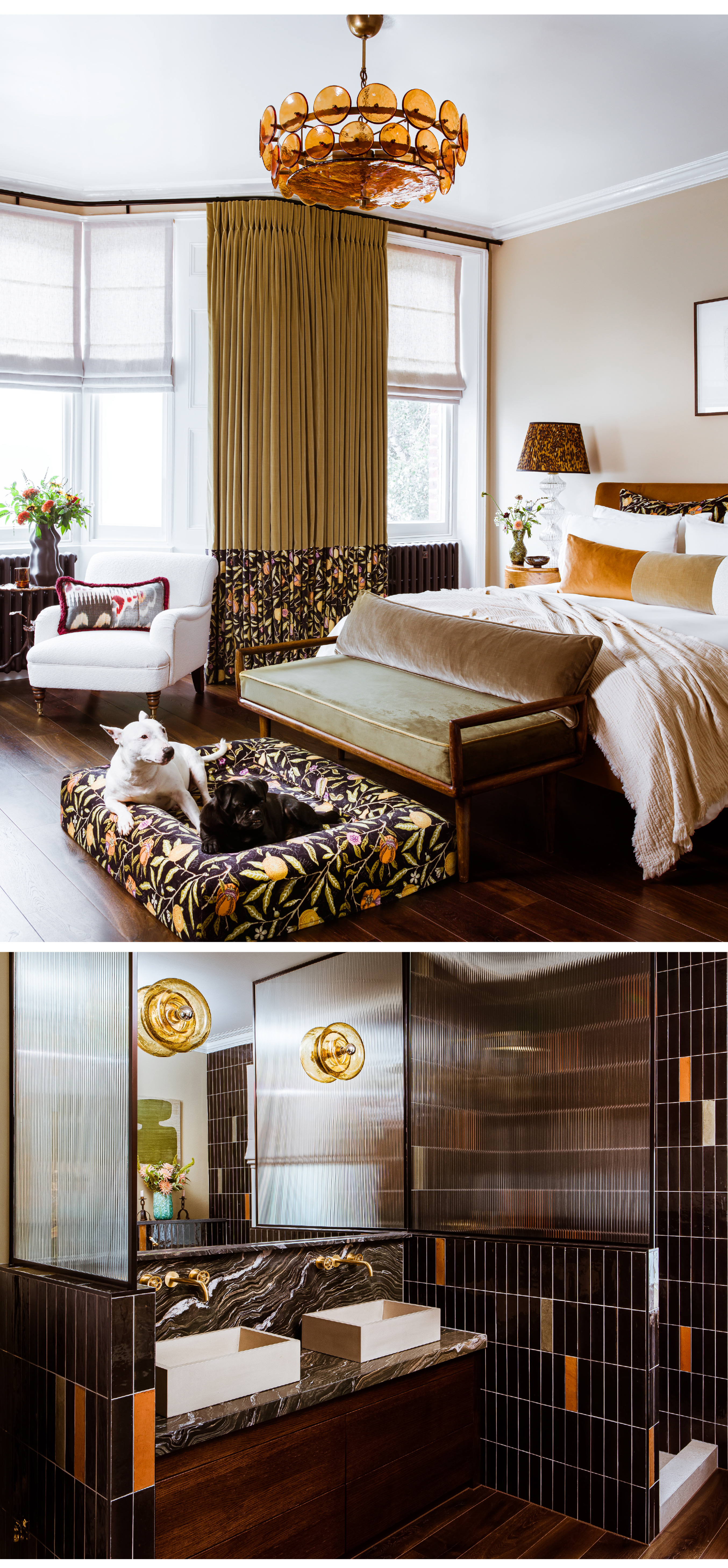 When we announced our interiors collaboration with Nick Grimshaw and his partner Meshach Henry, we were excited to give you a sneak peek into how we created their phenomenal main bedroom. Read on to find out more about the design process.
"The brief was to create a room that felt like a sleek bar or hotel, a place you might want to enjoy a cocktail", says stylist Liberty Blackwell. Sitting down early on in the process Nick, Meshach and Liberty created a mood board that would form the basis of the room's theme.
The pair's incredible eye was drawn to Archive for its luxurious emporium of iconic prints.
"Archive gave us some great ideas about how our main bedroom could look, and after exploring their treasure trove of patterns, we decided to base our scheme around an iconic print called Fruit, in the Twilight colourway. It's one of our favourites and we loved how the black and sage tones paired brilliantly with warm amber – we knew we wanted to incorporate this into the overall aesthetic."
The Fruit Twilight colourway inspired the palette used throughout the scheme, from the property's ensuite tiles to statement ceiling lights by Soho Home.
"We always knew we wanted to add curtains to bring the room together and the panelled Fruit design allowed us to incorporate a hint of print without it feeling overbearing", says Nick.
Alongside the Archive styling team, Nick and Mesh layered block colour, pattern and textured plains with the velvet Fruit Twilight panelled curtains to create a unique and welcoming master bedroom scheme.
With the design chosen, Nick and Mesh used our made-to-measure VIP service to ensure their new curtains were expertly measured and installed. Once the bespoke curtains were lovingly crafted in the UK, our fitters returned with the finished item to complete the window transformation.
To tie the scheme together, the bed was finished with layers of plump, plush Fruit cushions. Nick and Mesh also opted to create some custom pieces, with lucky dogs Pig and Stinky now sleeping in their very own one-of-a-kind beds!
The result, Nick says is that the room creates a "Feeling of being eclectic and curated, but not too museum-like."
Mesh added, "Every time I walk in this room, I want to stay here and I don't feel like that about many spaces. I think we've made the perfect decision."
Follow us on Instagram @archive_sdg for more inspiration as we uncover the design story behind each room.
Photographer: Patrick Williamson
posted on 15 Oct 2021 in Interiors