Enter Wonderland: Robyn Donaldson on setting the home tone

Robyn Donaldson is the interiors-obsessed creative, known for her inspired eclecticism and passion for moody blues and bottle greens in her Victorian home, The Foxberry II. With a renovation underway and Archive at her fingertips, self-confessed out-and-out maximalist, Robyn, also known as @around.robyn, has been indulging in the past of her period property, drawing on its historical beauty to bring it back to life.
SETTING THE TONE...

"I cannot tell you the difference adding an injection of personality has made… I genuinely beam whenever I walk through the door. After much deliberation over all the reimagined William Morris designs in their delicious contemporary colour palettes, we went for Hyacinth in Enchanted Green. It's a heady mix of corals, blues, and olives all on a moody charcoal backdrop. It's the perfect complement to the Zoffany Chalk White we added to the textured wallpaper on top." – Robyn Donaldson.
With a bold intensity of pattern and sense of intrigue, the transformation of Robyn's hallway using Archive's Hyacinth has made it something of a conversation starter.

Your hallway had amazing potential from the off, realised by the beautiful renovation. Did you buy the house for the hallway alone?
Weirdly, it was a massive factor. Our old house had such a narrow hall that we could barely get a bike through the space, so walking into the big, imposing hallway in the new place was just glorious. I think my mind was made up as soon as we stepped in the front door and saw it at that first viewing.
What is it about period properties that speak to you and how did you maximise on these features?
I've never really lived in a period property. I was raised and have always lived in 1950s properties. While I love the fact more modern homes have great storage and more regularly shaped rooms, I am all about the glamour so as soon as we saw this place and realised it was in our budget I was sold. Don't get me wrong, this house has 75% more issues than anything we've owned before but the joy the scale of the place, and all the beautiful original features means it's totally worth the stress. With Foxberry Towers II we're actively celebrating her proportions and features. We're committed to creating a space that celebrates the heritage of the building in a contemporary way.
Where did you start in the hall, deciding what would stay and what would go?
The carpet was beyond saving but the heavy pattern on it reassured us that the space could take print. I loved the textured wallpaper that was in place and was keen to keep that so was really happy that I could counterbalance it with the pattern in our Archive Hyacinth wallpaper and a splash of Zoffany paint to freshen everything up.
What was on your Archive shortlist when selecting prints and colours for the hall?
I knew I wanted greens and blues as they are main colours that run through the house and a nice, bold pattern that speaks to the Victorian era of it all without becoming a pastiche of the period. Mildmay was a definite frontrunner as it's so intense and interesting and, well, green. The darker Daisy also caught my eye but, in the end, it was Hyacinth that I landed on.
What drew you to Hyacinth?
The pattern has this lovely density and flow to it that I just loved and worked really well in the space. The colours were perfect for what I was after, muted brights that complemented the paintwork and white walls above. It feels grand but friendly, imposing but playful and that's exactly the vibe I was after.  
How does the hallway define your personal interior style?
I think the stakes are highest in the hallway as it really sets the tone for the rest of the home. I'm so happy we've got to a place where it speaks of us and our approach to the home, so organically. It's a statement for sure but it's also designed to be welcoming; I want people to feel relaxed and that they don't need to stand on ceremony in our home. It's packed with stories, from the skeleton of it to the history of the house to the art, the statement radiator, and, of course, the wallpaper. It's meant to start conversations and is designed to feel like an entrance to a wonderland. I absolutely think the wallpaper was crucial in helping us achieve that feeling.
MORE FROM ARCHIVE
Need a hand measuring and hanging your wallpaper? Check out the how-to video guides for a simple and stylish tutorial on hanging your Archive wallpaper with panache.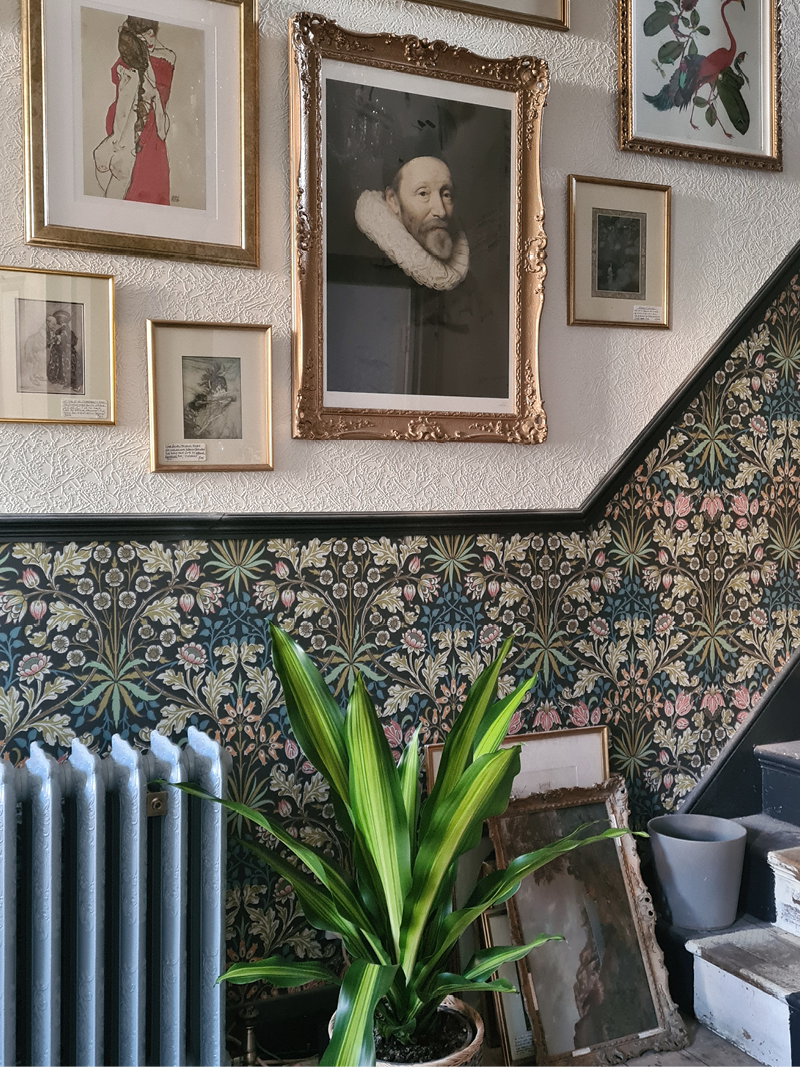 SHOP THE LOOK
Shop Hyacinth on wallpaper, fabric, and in made-to-measure blinds and curtains.