Curtain call: Robyn Donaldson sings the blues with Tulip & Bird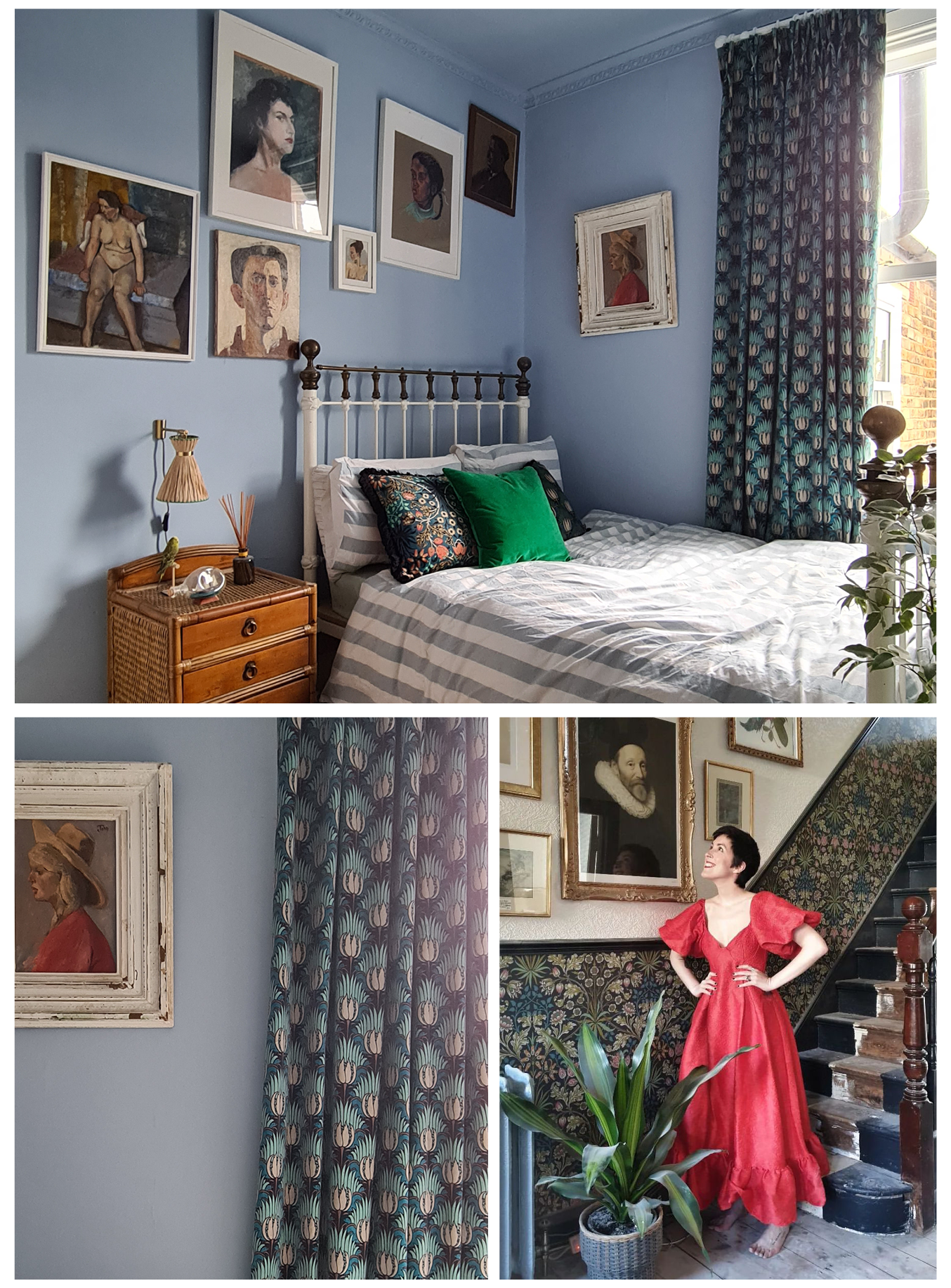 The pleasure of made-to-measure
Curtains, those heavy drapes once considered the preserve of stately homes and grandma's living room, are making a bold and triumphant return for good. A maximalist's dream, boldly patterned fabrics hung evocatively from windows can transform spaces from simple to sensational.
Robyn Donaldson is driven by a love of British eccentricity and quirky home style (which we, naturally, LOVE) and recently installed Tulip & Bird made-to-measure curtains in Opal & Seafoam in the spare bedroom to maximum effect in her period home, 'The Foxberry II'.
With blue a key driver in her design decisions, we spoke to Robyn about how these curtains transformed her space with a sense of playfulness and how selecting bold patterns for the home will never go out of style.
How did you begin the design process in this room?
I already had the blue in place in our spare bedroom but when it came to curtains, I was in a bit of a quandary. I knew I wanted to change the colour of the room up in some way or add an accent wallpaper so wanted something that acted like an eccentric neutral and that would look great on the blue I had and the further colours I'm planning. I also wanted a centrepiece that added texture, interest, and a contemporary twist, as the antiques in the room needed something to juxtapose against. 
There is something very retro-cool about curtains, why did you want them as part of your scheme?
I think the portraits, the colour, and the bed are so classic I was desperate for a bit of fun and an accessory to add a cheeky edge. The decadence, the fact they are so tactile, and the playful pattern are perfect and add a feeling of grandeur to the space. 
From the Archive vault, which prints really spoke to you as designs you could incorporate into your own interior?
It was really tough to choose as all the prints are so brilliant. It was a real toss-up between the Signature Stripe, Golden Lily and Forbidden Fruit but Tulip and Bird just clinched it.
And you selected the print in opal and seafoam. What was behind this choice?
I think because it's blue on blue, it forms a lovely kind of neutral and because of the limited palette there's scope for it to match more schemes going forward, so it future proofs a key accessory. 
How have you interpreted this print into made-to-measure curtains to accent that maximalist style in your scheme?
The print is a lovely contrast against all the straight lines in the room - the frames and the bed and furniture - as it's filled with art deco curves as well as being something that draws the eye in - the birds and flowers can only be found on closer inspection. It added a perfect additional area of interest without overwhelming the room. 
What are your top tips for choosing curtains that make a bold statement, while also creating a timeless look that can evolve as other interior pieces join the design fold?
Choose colours that you gravitate toward, so they are always likely to gel with the decor. Lavish materials like velvet never go out of style and give an eternal vintage feel. When it comes to pattern, trust your gut - bold patterns don't tend to lose their appeal as trends change, so if you've always loved florals go for bold blooms or, if you're a stickler for symmetry, stick with stripes. 
MORE FROM ARCHIVE
Shop our Made to Measure bespoke curtains and blinds and explore our expert How To Guides to see how to do it.
SHOP MADE TO MEASURE CURTAINS
MORE FROM ROBYN DONALDSON
posted on 20 May 2022 in Interiors