Colourful curation: Clare O'Connell on collecting bold designs for home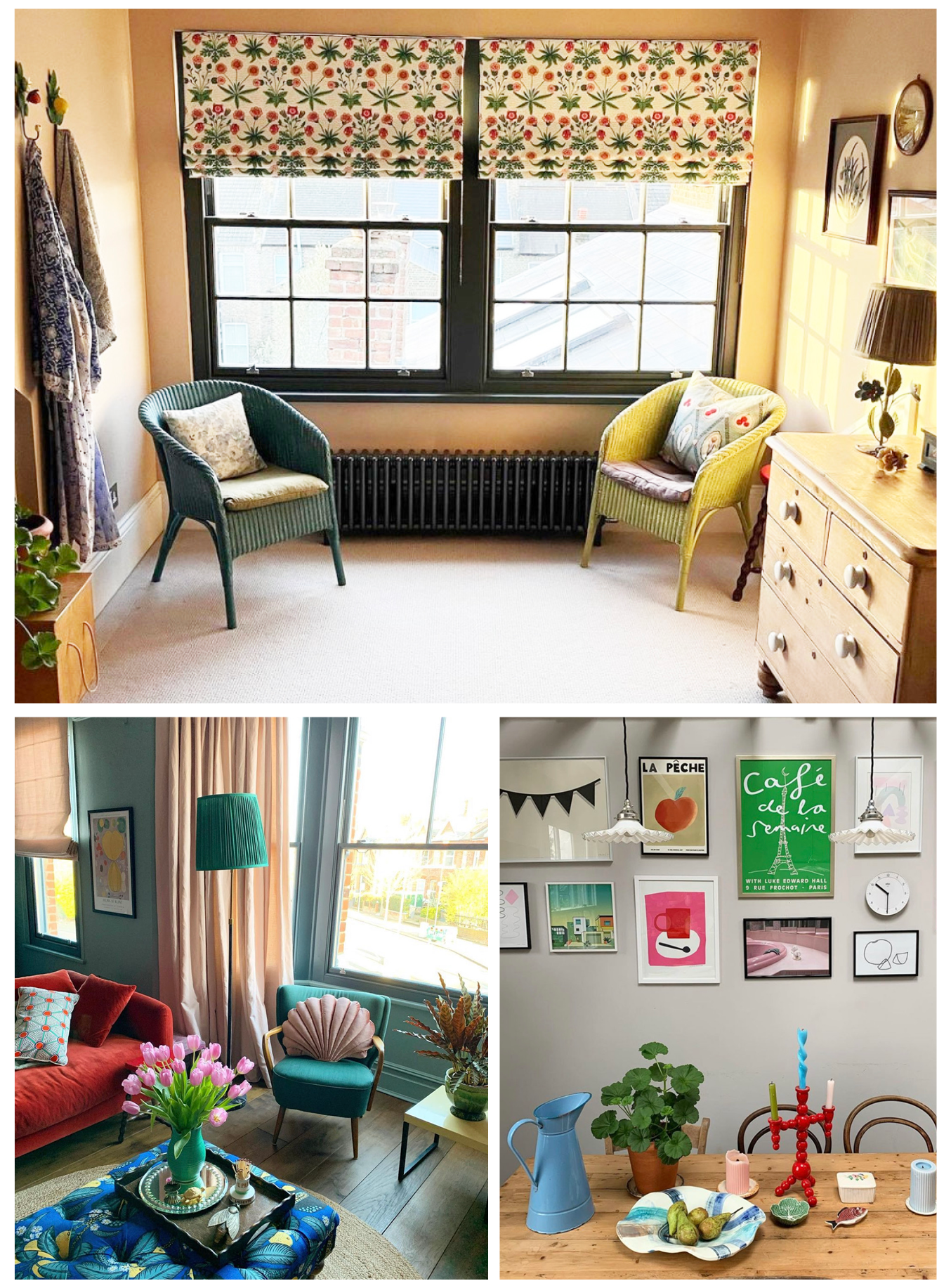 NOTES ON MUTED MAXIMALISM
Clare O'Connell is a baker and collector of design treasures. She is also living (and Instagram scrolling) proof that maximalism doesn't only mean loud and clashing. It isn't limited to those who love to layer print and pattern in exuberant, decadent ways. Collectors can, and do, rejoice in the journey of that maximalist life, seeking out and snapping up pieces like a magpie on an exploration of self-expression. Because that's what design is all about, that joy that comes with owning your own style and curating as you go.
Clare's home is an effortless and eclectic mix of pieces, a combination of the various design influences she has come across in her life, from her architect dad to her vintage-loving mum, and, of course, the infinite realm of content that appears at the simple scroll of a social feed.
With Daisy in Strawberry Fields accenting the stunning sash windows of her own home in a made-to-measure blind, Clare shares her love of collecting design pieces and how Archive's prints became part of that curated journey.
How would you describe your personal interior style?
I like comfortable homes, full of objects and furniture. Homes that feel lived in and loved. My parents have had a big impact on my sense of style and view on design, which is probably why it's a bit of a mixed bag. My dad is an architect and believes in white walls, modern British art and classic wooden Scandinavian furniture, whereas my mum is forever buying vintage crockery and toys from charity shops and car boots and loves shelves and tables full of her finds. Both like white walls so my love of colourful walls is all my own. 
Starting an interiors project can be daunting, where do you start?
The advice I didn't follow but on reflection, I suggest anyone does, is don't ignore the boring problems. Your number one priority has to be sorting any issues post-survey if you've purchased your home.
In terms of the fun stuff, I would say start collecting images and make a mood board, virtual and physical. A basic one on your phone or laptop is good, but also collect all samples of fabrics and tiles to hold in your hand and walk through each room with. You've probably been honing your taste via social platforms like Pinterest or Instagram for a while now. There is such amazing inspiration to be found online and you can save all your faves and start to make connections and collections with them, but the act of laying out textures and tones on a table or pinning on a board is thrilling and so useful.
What drew you to Archive and our Daisy blinds?
I actually saw the pattern as wallpaper on Instagram and fell in love with it. I love that it's a floral but also that it has a Scandinavian vibe about it. 
What would your top tips be for choosing blinds and using them in a scheme?
Curtains and blinds are so important in a room, they really do look unfinished and unloved without them.
Colour-wise, I'd say think about other colours you might have in your room, or, if you want to be bolder and more daring, look at the colour wheel and go opposite. So, if you have a pink sofa go for mainly green blinds, or, with a blue sofa, add orange tones in the curtains etc. I find those opposites very much attract my eye.
Finally, I'd say don't be afraid of pattern, it's so often more calming on the eye than a big block of colour. And mix patterns, layer them up. Blinds are a great way to introduce that extra pattern for layering, which you might already have in the cushions or blankets in a room. Keep layering!

MORE FROM ARCHIVE
Like Clare's approach to style? Why not take a look at our made-to-measure service for curtains and blinds, where you can add as much or as little Archive to your life as you like!