A bold statement: Yomi Adegoke on expressing her true self in her home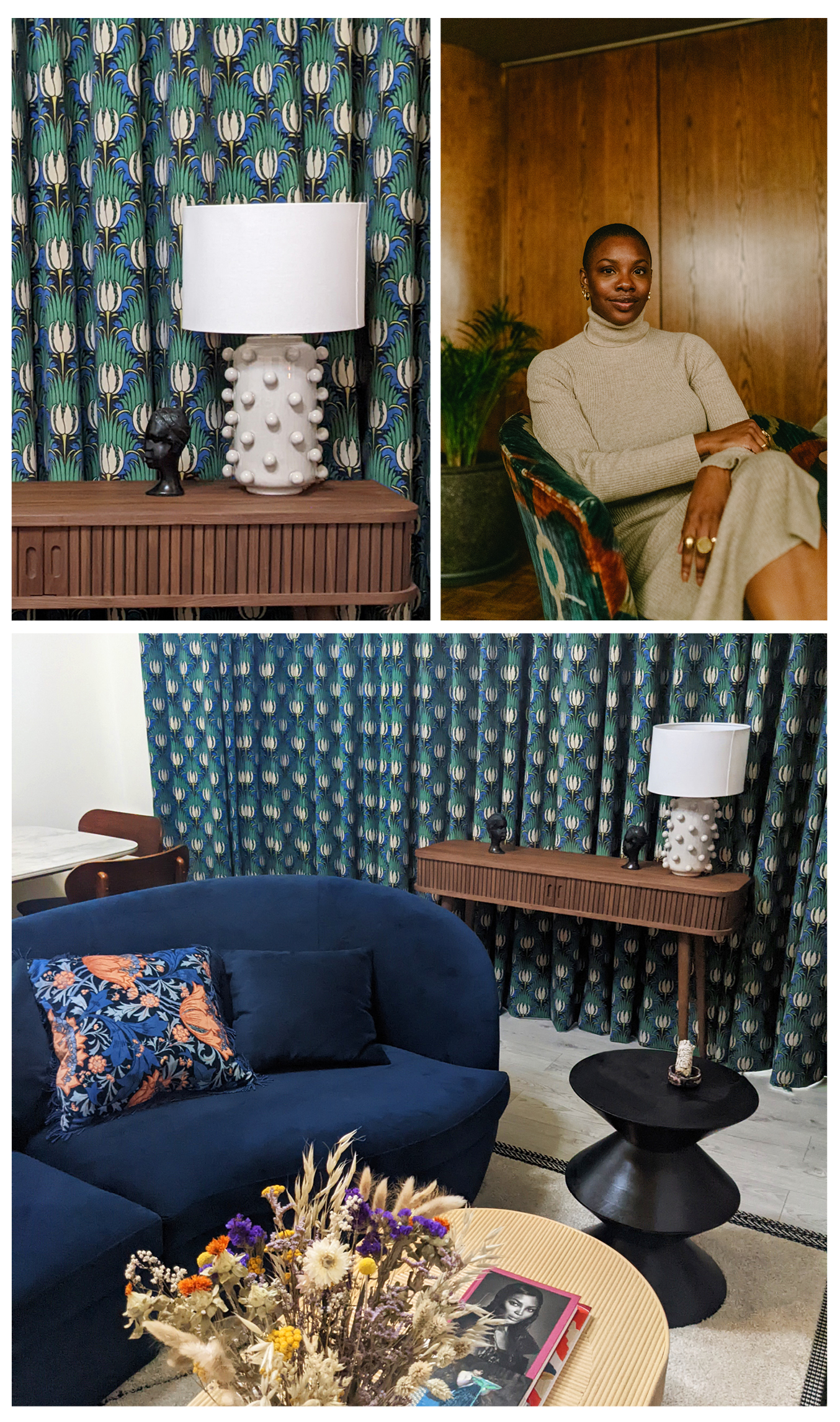 Author and Journalist, Yomi Adegoke, renovated her first home in March 2021; a renovation and design rehaul, she moved from room to room adding colour, art and a sense of 'self' to each space. Yomi shares her notes on collating stacks of swatches and how a considered, yet powerful blend of colours created a bold personal narrative at home. 
When and why did you start thinking of redesigning your space? 
I bought my first place in March, and it required a bit of doing up - only aesthetic stuff really, like new paint and carpets, but that gave me a real chance to overhaul the place from scratch in terms of design. I had never really lived alone before/ had to design a space of my own, so I decided to go all out and make it feel entirely 'me'. 
Where do you begin in the design process and what inspires you? 
I started it as soon as renovation was done - renovation began a few months after I bought and then finished in the summer, so I got stuck in re: interiors straight away! In terms of inspiration, I'd say that was found via a lot of Pinterest scrolling and interior magazines. I'm very much into art, so I wanted a place that was colourful and bold, but one that also felt homely. 
How did you go about selecting the prints?
I thought carefully about the colours that were already dominant in each space - so for instance, for the living room I had already gotten a gorgeous statement navy sofa and painted the walls a creamy off-white colour and the ceiling a statement yellow. The curtains I went for had hints of all these colours, in the same way that the blinds I chose for my bedroom were pink, which tied-in with my walls and ceiling in that room.
What do you feel are the key principles to making pattern work in a space?
I think having something that ties it all together really helps - whether it be hints of the same colour or fabrics/textures, having something that pulls things together gives it a type of theme and stops it looking haphazard.  
When it comes to interiors, which rules are made to be broken?
I know generally when it comes to carpet, many people say it's best to have the same type and colour throughout to make the space look bigger, but for me, having different carpets in each room makes them feel like very different spaces and gives each room its own feel. 
What is it that defines your interior style?
I would definitely say artsy and eclectic - I feel less pressure for things to 'match' and prefer things to complement each other as opposed to outrightly coordinate. I'm not afraid to have lots of different styles and references in one room, let alone in one house. 
Are there any useful rules to follow to help guide novices when introducing rich pattern and colour into a space?
It's definitely been a bit of trial and error, but I think a lot of swatch layering ahead of making any bold decisions helps a great deal. I approach it in a similar way as I would clothes; having statement pieces but keeping the base quite simple as opposed to just throwing as many bright things as I can together. 
MORE FROM ARCHIIVE
Likely to get your tape measure in a tangle? Let us recommend an expert fitter, who'll measure and install your bespoke curtains or blinds.
Sit back and enjoy your design moment, let the transformation begin.
TULIP & BIRD - SHOP THE LOOK

With its superbly symmetrical pattern originally designed by C.F.A. Voysey in 1895, our striking Arts & Crafts fabric is printed on beautifully tactile English cotton velvet. He also designed repeating wallpaper and textile patterns for many leading Arts & Crafts manufacturers. Perfect in its simplicity, this archive motif of stylised flowers reveals hidden birds amongst a richly coloured ground.