The Dark Art of Maximalism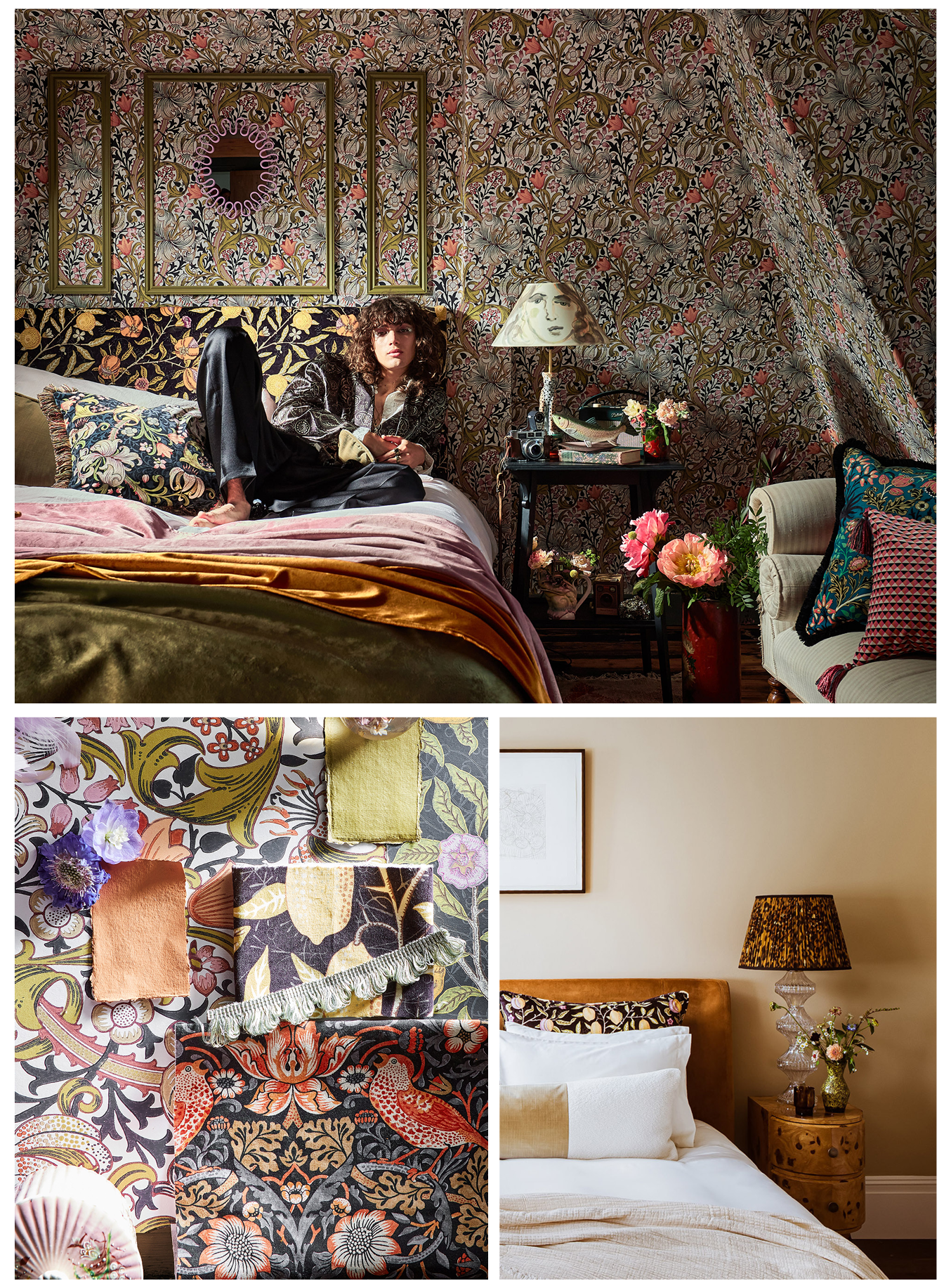 Design dancing in the moonlight
What happens to style when the sun goes down? This air of mystery and enigma of nightfall sparks the imagination in home design, creating new and evocative shades that heighten the drama and add depth to even the simplest of interiors. Our host of ink-infused patterns and prints prove that maximalism doesn't only exist in the neon zone, and dark, earthy palettes can infuse as much, if not more impact in a room, setting a new, altogether darker tone at home.
Existing in the in-between, twilight is the time when everything takes on a different hue; a hazy, mottled shade of exclusivity, reserved for the open-eyed few. It is a discovery of worlds between night and day, where tones and textures morph and twist and new inspiration is discovered.
The mysterious and beguiling shades of twilight unearth creatures and curious concoctions from nature, a natural and evocative bedfellow for our archive prints. Petals, leaves, and vines unfurl, and citrus tones pop and burst against the dramatic backdrop of night.
When reimaging the infamous work of William Morris and Walter Hoyle, therein lay an opportunity to take bold, nature-inspired motifs and truly reinvent them in a whole new light. Quite literally. New worlds were formed from deep, inky backdrops showing a darker side of design that reflected Morris's penchant for the natural world in a new, moody way, and highlighting Hoyle's mythical take on abstract print work.
It would be remiss of us not to highlight Strawberry Thief, an icon of the archive, and here, reimagined as if in a gothic fairytale, its nature-infused maximalist pattern still bursts forth from its muted, dark backdrop, the Old Fashioned colourway lending itself to a more sumptuous and rebellious take on the print. Design explorers would surely be curious to follow this thrush into the night garden. This nightly shade casts an antique shadow over the entire colour palette, twisting and distorting blues and pinks for the most beguiling print.
For designs that reference the natural world but show the decadence of fruits and foliage when the sun goes down, Fruit in Twilight is the ultimate symbol of the Mediterranean lifestyle, imbued with the heady depth of its Twilight ground. Twisting vines and pops of citrus fruits bring an almost neon quality to this fruity concoction, at home in every room of the house.
Think the concept of daintiness and darkness don't go together? Think again. Daisy was the first William Morris wallpaper to ever be sold, its delicate design speckled across the paper in pretty formation. Now, we have taken the opportunity to show the darker side of Daisy and the result is just as enigmatic. As if the daisy has taken on a moonlit glow, all the detail of this pretty plant is revealed on a backdrop of Moonlit, the soft, chocolatey nature of the print bringing an earthiness to the overall look, with those cornflower blue bursts most striking.
For those inclined to take to the dark side in their interiors, we celebrate the light and the shade of design. From dusk 'til dawn, good design never sleeps. Whether hung glamorously from a window setting (our made-to-measure curtains have got you sorted) or slickly applied to a wall (check out our how to hang wallpaper videos). Making your first foray into moodier interiors? A Golden Lily cushion in Bitter Chocolate is a deliciously dark and tempting way to start. Being enveloped in darkness has never been so appealing.
MORE FROM ARCHIVE
Go Behind the Curtain or find us on Instagram @archive_sdg for more twilight design inspiration, from Archive.
posted on 06 May 2022 in Interiors