Gild the Golden Lily: Archive Highlights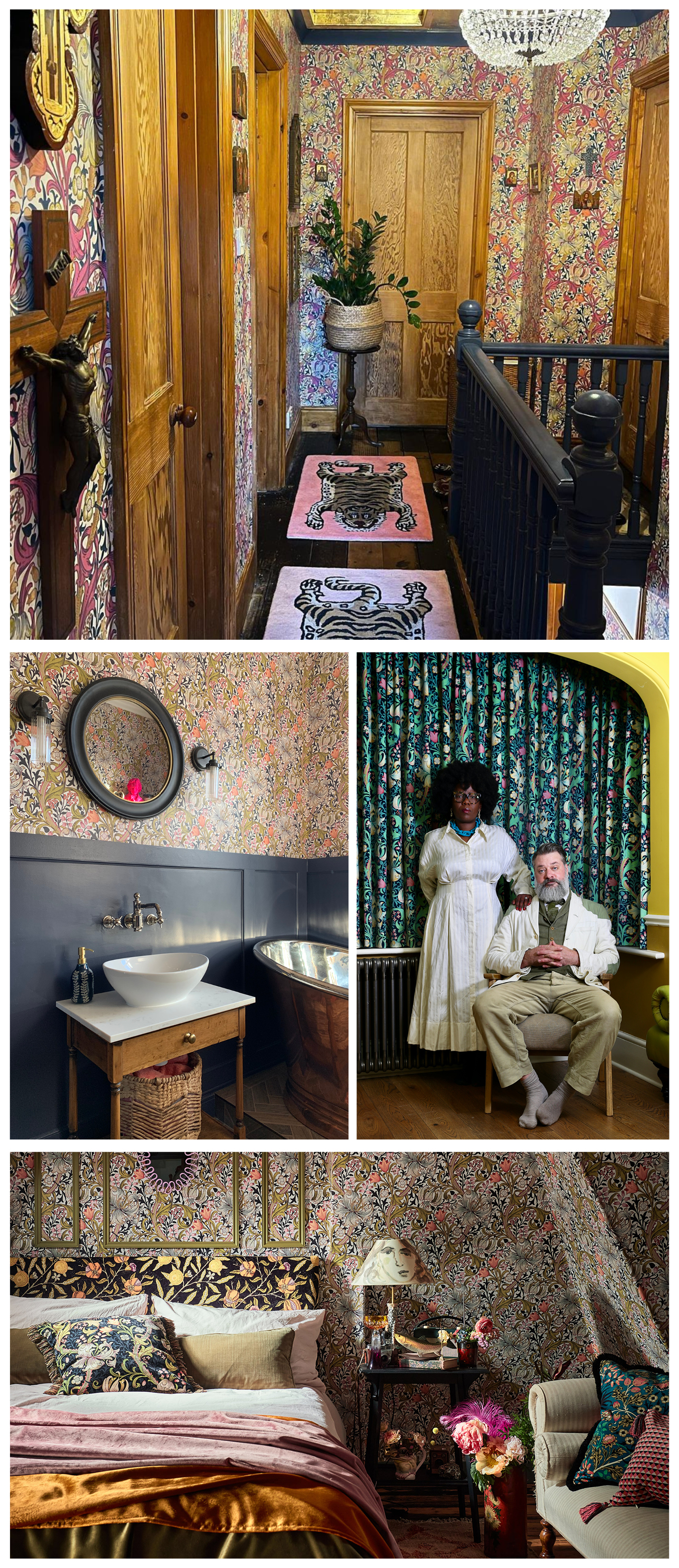 Emboldened by Golden Lily
Whether you're an out-and-out maximalist, a quirky traditionalist or a curator of historical objet d'art, Archive's emporium offers up a plethora of print styles to work into your cool, devil-may-care home narratives.
Golden Lily has been the object of many a design rebel's affection lately, and it's easy to see why. In a range of palettes that run from punk pink to evergreen ink, and travel between light and shade with dynamic ferocity, Golden Lily is as adaptable as it is a bold statement, drawing the eye through its whimsical classicism and modern colour notes. John Henry Dearle, Morris's protégé, certainly knew how to enrapture a crowd with this golden child of prints.
Effortless, yet impactful, quirky and definitely commanding, it is a match made in design heaven when curious tastemakers select Golden Lily from our maximalist archive.
The designer and historical collector of style
Interior designer Nicola Smith (@thesmithinterior) grew up surrounded by Sanderson and William Morris prints in her childhood home during the late 70s, she said, "I even unwittingly used a version of William Morris's Compton in our bathroom before realising we'd had that same design (albeit in a different colourway and scale) in my childhood bathroom!"
Archive caught her eye for its bold take on historical prints with a fresh, modern outlook, "I love that Archive exists purely to reignite the patterns of the past, with such a wonderful modern twist in the recolouring… Golden Lily is exuberant and full of joy, and the colours in the Pink Fizz colourway lift my spirits every time I see it."
Once hooked on Golden Lily, Nicola took to the hallway to express her design style, boldly blending Pink Fizz, with its reminiscence of a sweet shop of sugary delights, with darkest blue ceiling coving and bannister and a lux gold ceiling for good measure. "The hallway is the first part of your home that guests see after coming through the front door. You want it to have the wow factor, to give a taste of what's to come."
Reflecting on the bold statement of selecting Golden Lily in a wallpaper, Nicola shared, "Go with what you love, don't be afraid to be bold if that's what you like. Choose a colour scheme that makes you happy… Once you've chosen the paper, pick a couple of colours from that for the paint… with Golden Lily, I chose blue as the contrasting colour." Layered lux perfection.
The quirky traditionalists with a twist
Sound like a delicious cocktail to you? @casaoldcorn run by Lauren Joyce has added an Archive twist to their Victorian home in more ways than one, drawing colours from Golden Lily in Espresso to create a bathroom worthy of a decadent period drama film set. It was love at first sight when this print came onto the scene "I love how Archive has taken traditional prints and made them even more beautiful with pops of colour, making them eye-catching and bold. It's completely to our taste… quirky with a traditional twist."
With a copper-clad tub, parquet tile flooring and the deepest, darkest panelling running the bathroom's perimeter, Golden Lily in Espresso, with its notes of soft olive and peach peeking through, contrasts beautifully for the ultimate space of indulgence, "I think the bathroom is the perfect place to make a statement with wallpaper because It's a place to relax after a hard day and what better way than to be surrounded by a print you love! I love it when people use bold prints in their WCs and bathrooms, it creates such a wow factor!"
The couple with a melange of home design cues
Sophia and Simon Cook have a penchant for mixing and matching, whether that is playing with the palettes of night and day throughout their home, or selecting various prints, patterns and pieces that reference different eras, all collated effortlessly and with a clear nod to their personalities in their late Edwardian home. "We needed something to tie all the rooms together making it a unified home… The basic idea for the colour palette we chose was 'day and night'. The ground floor is for daytime, the first floor is for night time." With earthy tones in yellows, browns and greens established on the ground floor 'day' spaces and pinks, purples, and blues upstairs in the 'night' spaces, Sophia and Simon were excited to discover Archive and the myriad of print and colour choices that played to their era-diverse interior vernacular. Golden Lily was selected in Galactic Ink and made-to-measure curtains were created, contrasting sublimely against the lemon wall colour. The bold yet mysterious print is a blissful hybrid of day and night tones, pairing pinks and greens to maximum effect. Sophia and Simon's home is a testament to the power of individuality and expression of oneself at home.
IMAGE CREDITS
Courtesy of @sophiarcook @casaoldcorn @thesmithinterior
MORE FROM ARCHIVE
Want to know more about the ways you can incorporate Golden Lily into your home, click here to discover the print in every guise.
SHOP THE GOLDEN LILY RANGE