Five tricks for velvet voluptuousness in your home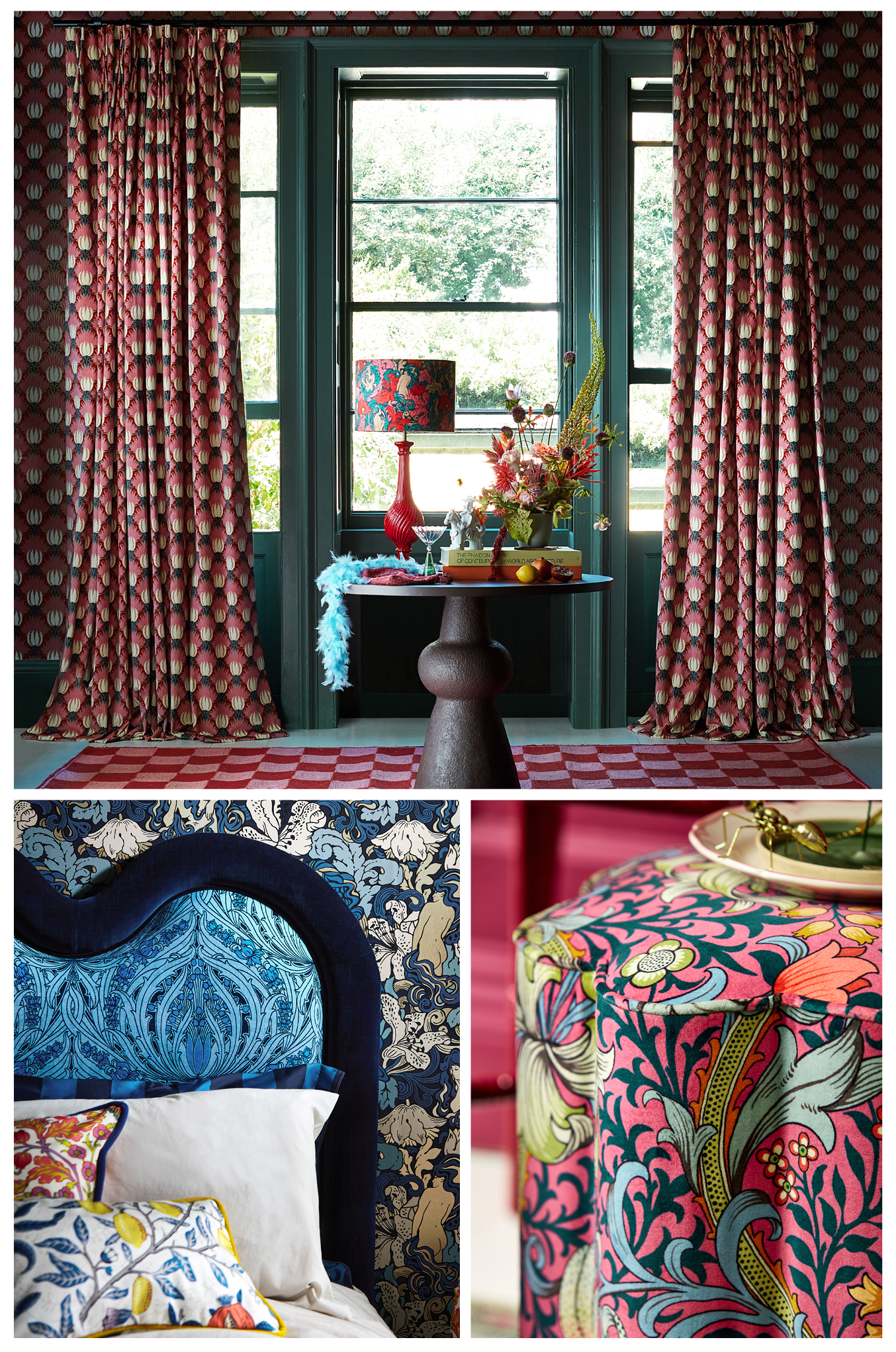 THE VELVET GLOVES ARE OFF
Sensuous softness, undoubted luxury, THAT irresistible shimmer. Velvets are enough to make anyone hot under the collar.
In our hands, they're also magnets for Maximalist pattern, offering the perfect platform for havens of colour richness to shine forth onto glorious schemes. Velvet's first use dates back to 13th century China… so velvet has definitely been around the block. And in all that time, they've never really gone out of fashion. An old art it may be, but we're confident you've not seen velvets quite as raucous as ours.
Upping the volume on velvets, we've concocted our top 5 tricks for embracing this fabric wonder of the world.
1: DON'T FORGET YOUR HEAD(BOARD)
At Archive, we really mean it when we want pattern EVERYWHERE, and we've got the headboard right in our crosshairs. This oft-forgotten area is perfect for upping the ante in bedroom schemes.
We reckon Mildmay in Majorelle is just the ticket. Don't let its name give you the slip, Mildmay comes in a heady blue with a truly trippy pattern of ogee flower heads from this true child of the Arts & Crafts movement. More of a Green Queen? There's Mildmay in Goblin Green just for you. 
2: POUFFE PERFECTION
Why is it that when you hear the word 'craftsmanship' you're seconds from stifling a yawn? Banish the boring, not the quality, with pouffes worth the hype.
Take our velvet Golden Lily pouffe in Serotonin Pink, for example. The showpiece? 100% Renaissance cotton fringing, hand-woven for the ultimate luxury trim. Coupled with the striking Hyacinth design printed in our Lancashire fabric mill and crafted in Derbyshire, this pouffe is the collector's item par excellence.
3: CUSHIONS ON THE QUICK
Looking for a rapid Maximalist moment? Cushions are the key. Moveable pockets of pattern, that's what they are. Layer up a sofa or dress down a bed, Archive's velvet cushions feature works by history's greatest designers.
Love being spoilt for choice? Our huge cushions range is calling you.
4: FOR SOFA LOAFERS
A velvet upholstered sofa - is there a more iconic marriage? Giving the decadent Richard Burton and Elizabeth Taylor a run for their money, a sofa dressed in velvet will never let you down. Just as the velvet sofa is cool for always, our patterns have been pushing the envelope for decades, even centuries.
Imagine lounging on this, our Golden Lily from 1899 by the apprentice to William Morris, J.H. Dearle. Serotonin Pink is the colour, riotous is the feeling. Need more of a space-age vibe in your life? Golden Lily comes in Galactic Ink, for outer-space design explorers.
5: CURTAINS FOR THE COOL
Courageous concoctors, be warned: ignore the curtains at your peril. Except for the walls, they're your biggest canvas to fill with colour and pattern and can make or break your that cocooning vibe. Have no fear: with Archive, you're in safe hands for a victorious velvet scheme.
We've rocked the Dearle's 1899 Golden Lily on ours, but with your curtains and drapes, you're in charge. Whet your appetite with transported to NOW through irresistibly contemporary colour stories.
 Need a hand with set up? Head on over to our VIP Services for hanging guides and bespoke fittings to help you get your scheme off with a bang. (You can take the credit – we won't tell.) 
posted on 11 Nov 2022 in Interiors